Kaitec series two stage compressors offer outstanding effciency with significantly lower specific power consumption.Effciencies can be 20% higher than single stage equivalent.
Compression ratios are divided over two airends with inter-cooling resulting in lower power costs and extended bearing life.Compressors are avaiable in both fixed and variable speeds.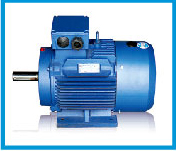 Drive Motor
Large starting torque IP54 and high temperature F class rating SKF bearing,low noise level and long lifespan Available to add flue on the operation condition.